The newest healthcare apps can do everything from monitor health conditions and track medications to provide remote access to medical records. The offerings should allow clinicians to boost efficiencies, helping clinicians in improving both clinical decision-making and patient care.
There is just one problem: developing and integrating applications into an existing healthcare information technology system is complex, expensive and time consuming. It requires aggregating data sources, addressing regulatory restrictions, integrating privacy features and adapting applications to multiple healthcare stacks to make them operational.
The challenges have resulted in significant lags in the development and adoption of new app-based technologies in healthcare, according to Dr. Felix Nensa, radiologist at Essen University Hospital and group leader at the Institute for Artificial Intelligence in Medicine.
"In the past, healthcare IT did not get the attention it deserved and the gap [between healthcare needs and available technologies] became larger and larger, which was very unhealthy for healthcare," he says. "You cannot run complex institutions like hospitals without a state-of-the-art healthcare IT stack."
GE Healthcare is developing Edison Digital Health Platform, a data aggregation platform with an integrated artificial intelligence (AI) engine, to help address this issue.
The platform is being designed to aggregate clinical data from multiple sources. Thanks to digital tools like advanced analytics and AI, healthcare providers could then use the platform to deploy applications across the care continuum from screening and diagnosis to disease monitoring and operations.
The technology design helps solve the fundamental challenges that impact patient care: integrating AI into the workflow and helping doctors turn data into insights so they can spend more time with patients and less time in the electronic medical records (EMR). In short, Edison Digital Health Platform is being designed to allow healthcare providers to focus on patient-centric care.
"[In a hospital], there are a lot of different systems for specific tasks: hospital information systems, radiology information systems, laboratory information systems…and so on and, quite often, these systems are not interconnected," Dr. Nensa says. "So, you have one patient but you have to look them up in five different systems. It's quite obvious this is not how it should work."
Dr. Nensa developed several applications, including a patient health dashboard that made an immediate impression on the clinical team at Essen University Hospital. One trauma surgeon raved about the time-saving nature of having all patient information in one place. News of the app quickly went viral in the hospital.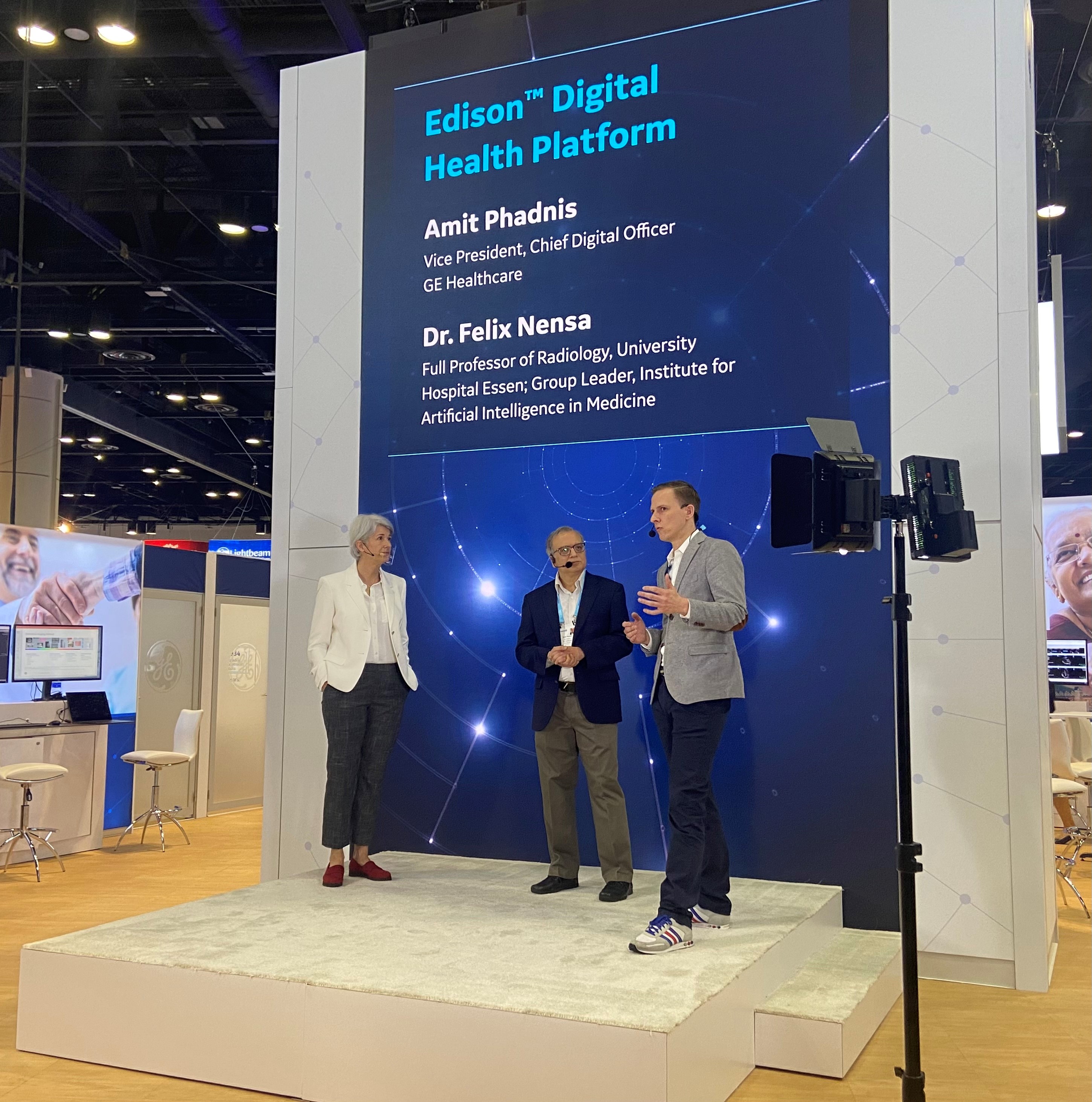 The patient dashboard is just one of the use cases that will be featured at HIMSS to showcase the impact of data aggregation and the combined operational and clinical goals upon which Edison Digital Health Platform is focused. The platform will highlight how GE Healthcare plans to change the way hospitals use healthcare technology.
Help Behind the Scenes
Edison Digital Health Platform is also being designed to address common technology issues that happen behind the scenes.
Unlike other healthcare technology platforms that focus on appointments, billing and other business data, the Edison Digital Health platform's goal is to enable both operational and clinical applications in a single platform. 
The platform is being developed to support open application programming interfaces, providing a straightforward and efficient means for developers to scale new digital capabilities. It is GE Healthcare's goal to allow healthcare providers to build their own apps on the platform, purchase GE Healthcare apps, purchase third-party apps, or work with third-party app developers to build the apps directly on the platform.
Dr. Nensa believes that developers will appreciate that Edison Digital Health Platform is being designed as a vendor agnostic platform because it helps save the resources and time allocated to integration, allowing them to more easily bring useful applications into clinical practice.
Developers have confidence that their apps are being integrated into a technology stack that meets the rigorous requirements of healthcare providers, he adds. "To bring innovation and the agile approaches of smaller [information technology] companies to healthcare, you need to hide the complexities of the healthcare stack," Dr. Nensa says. "Edison Digital Health Platform does exactly that."
By prioritizing the ease of integration, Edison Digital Health Platform is being developed to help pre-integrated apps to have an immediate impact on clinical and operational decision-making without disrupting existing workflows.
Evolving from the outdated, monolithic mega-suite electronic health record (EHR) with a digital health platform has other advantages: It helps healthcare providers accelerate improvements in operational efficiencies and clinical effectiveness, acting as a tool for health systems to optimize system resources, grow service lines and increase access to high quality, patient-centered care. 
"We want to do precision medicine and treat each patient as an individual. If we miss data or we don't have the full picture about the patient, this approach fails," Dr. Nensa says. "Having all of data accessible, we can apply clinical decision support systems and AI-based applications that really help us to…provide them the best treatment we can."