Today's healthcare environment is rapidly expanding. Patients have increasing access to many care options and demand is increasing for remote access to services, such as medical imaging. However, imaging experts and radiology staff are in low supply. With a digital expansion, it's imperative that radiology departments are able to efficiently manage a consistent, high-quality imaging operation across multiple sites. Moving to a distributed imaging model, using sophisticated tools to help manage staffing challenges and reduce variation in image acquisitions is one way to successfully scale an imaging operation over multiple sites.
"Distributed imaging is already helping health systems scale their imaging services and expand to meet the needs of patient populations in remote areas," explained Rehka Ranganathan, Senior Vice President and General Manager, Imaging Solutions at GE Healthcare. "GE Healthcare has been working with customers throughout their journey on hardware and software solutions, and now, our digital applications can help to make a big impact in how they are able to efficiently manage their operations across many remote sites."
GE Healthcare, working closely with its clinical partners, is committed to helping radiology operations work more efficiently with innovative solutions in imaging protocol management, staff training, and collaboration tools. At the same time, the use of enterprise data analytics can provide real-time, actionable, customized dashboards to help clinicians orchestrate patient care for better clinical outcomes and efficiency.
Manage staffing challenges with remote capabilities
Streamlining imaging operations isn't just about finding the right technology. Many health systems are experiencing staff shortages and are realizing the effects they have on care delivery. By 2033, estimates suggest the healthcare industry could have 42,000 fewer radiologists and other specialist physicians than it needs.[1] In 2020, as more work was spread among fewer resources, staff turnover rates climbed to between 11 and 20 percent in the US and UK, according to GE Healthcare research. Health systems are leaning on less experienced technologists to fill gaps, but newer staff can have a difficult time managing the 30 percent of scans that are more complex and can take 10 to 15 minutes longer than basic exams.[2]
"When you combine more complex exams with newer staff, the challenge is about training, efficiency and reducing the high staff burnout," said Ranganathan.
In addition to complex exam protocols, different clinicians may request specific views or other requirements based on their clinical specialty, or the patient's specific needs for the exam.
"It's a very complicated environment to manage," said Tim Szczykutowicz PhD, Associate Professor in the Department of Radiology at the University of Wisconsin, and Director of Operations for the CT Protocol Project. "For different implications, [a technologist] may need to turn on or off different reconstructions. Individual physicians or radiologists may demand special variations that they have to have, such as a delayed phase or a certain slice thickness. The environment for the technologist can be extremely complex and stressful."
Through distributed imaging, health systems can empower technologists with a real-time, virtual collaboration solution. Technologists can tune in via audio, video, or chat, and consult with a more experienced technologist or clinical expert that can assist them during scanning operations and connect multiple scanner rooms at the same time across multiple locations.
"In a situation where a technologist is unfamiliar with the complexity of the exam protocol or with the specific requirements of a clinician, they can reach out during the patient's appointment and receive assistance from a colleague who can help. This can help improve imaging accuracy and reduce the need for retakes," said Ranganathan.
Timely assistance may help avoid quality issues, rework and other delays in the exam workflow. By guiding exams in real time, the disruption of rescheduling patients or the need to send patients to other sites is reduced.
Driving clinical standardization across a health system
Protocol standardization is another key improvement in imaging operations that can help to increase throughput and reduce patient overload. Currently, protocol standardization is an antiquated, manual process that involves technologists traveling between sites and updating the protocols on each individual scanner. It's less than an ideal situation for a staff that may already be overburdened and stressed.
Optimizing imaging operations with protocol standardization means that radiology services and imaging can be consistent across all facilities in a health system. Patients can expect to receive the same quality imaging regardless of the location they choose. If a health system's fleet of scanners is outfitted with the same protocol selection across sites, there can be less pressure of newer or less experienced technologists to perform complex exams.
"There's a lot of important information at scan time that an operator needs to successfully scan that patient in an efficient manner," said Dr. Szczykutowicz. "In our practice, for example, we have roughly 50 [technologists] spread over 20 CT scanners in the region. Only two [technologists] have the expertise needed to program protocols onto our scanners. We could train more techs to do this, but it's not the most efficient use of our resources and it's cost prohibitive as well."
Dr. Szczykutowicz works closely with GE Healthcare on intuitive protocol solutions and this collaboration resulted in GE Healthcare's Imaging Protocol Manager, a revolutionary digital tool created to eliminate the manual process of updating protocols and replace it with an automated solution to send out and edit imaging protocols on an entire fleet of scanners.
"From my laptop, I can see and edit the protocols that are on my [fleet of] scanners, just as if I was looking at an individual machine. With this protocol manager, you're able to achieve uniformity in image quality as well as uniformity in workflow."
Using protocol standardization across sites, it can be easier to manage staffing and resources because staff can easily work in any location and with no disruption of exam times or scheduling because they are unfamiliar with the protocols there.
Using both GE Healthcare's real-time virtual collaboration solution, as well as its protocol management tool, the radiology staff at The Fourth Affiliated Hospital of Zhenjiang in China is making their operation run much more efficiently.
"Before these technologies [IPM and Digital Expert], we took about 30-40 minutes to complete remote guidance," explained Xiao Shengxiang, Technical Director of the Department of Radiology, The Fourth Affiliated Hospital of Zhenjiang University School of Medicine. "A lot of time was spent on communicating and troubleshooting the content on the screen, and the patient's CT scan process was relatively long. With the combination of these technologies, regular scans can be completed in 15 minutes from protocol preparation to scanning, which greatly improves efficiency and saves time."
Optimizing services across multiple facilities
One of the largest providers of imaging services in all of Mexico and Nicaragua, Salud Digna provided imaging services for 15 million Mexicans in 2020 across its multiple remote facilities. Its mission is providing care and granting accessibility to people with limited resources. It optimized its imaging services with distributed digital imaging solutions to manage protocols throughout their enterprise, making sure that all its scanners adhered to the same imaging protocols.
"We used to go in person to visit each of the MRI systems…to validate that the established protocols were the correct ones, in addition to the fact that radiologists had to have the entire protocol manual accessible within their documents," explained José Azael Castro Sánchez, MD, Medical Director and Radiologist at Salud Digna.
Salud Digna currently operates all 22 of its MRI systems with standardized protocols that meet image quality requirements, including the number of sequences, the types of sequences and characterization of different diseases.
"Centralizing all this administration guarantees that the study for each type of patient for each type of region is the right one and that is beneficial in reaching the right diagnosis," he explained.
Salud Digna is currently operating with 80 established protocols on all its MRI scanners and also utilizes data analytics that offer reporting on asset utilization, turnaround time and protocol notifications, including when a sequence is modified.
"If we notice a certain established protocol has a modified sequence, the platform gives us the opportunity to edit the protocol. With a certain sequence in particular, we consider it, we analyze it with our medical radiologists and see if we should add it to the protocol as something new. That is what we have seen as an improvement for us," explained Marysol Sánchez, Radiology Technologist and Head of Technical Specialists at Salud Digna.
Intelligent solutions for a future of optimal imaging operations
Using an intelligent distributed imaging model, data aggregation and performance analytics tools can provide actionable insights relevant to the main key performance indicators in a health system. In the case of protocol standardization, a whole fleet view can be used to drive better outcomes.
"Additionally, as we develop  smart protocolling solutions, we can take the information from our scanners and learn over time what the human operator does and what they pick on a scanner to perform the exam. Over time, Intelligent Protocolling can learn that and then suggest the optimal protocol for you," said Dr. Szczykutowicz.
Salud Digna is planning to open 40 more clinics throughout the coming year and has plans for international expansion predominantly in Central America. The continued use and development of distributed imaging tools for improving efficiency in imaging operations can optimize the use of limited resources and help to scale imaging operations to provide care to more patients who need it.
"Being able to count on these tools gives us security and confidence to be able to guarantee what we are doing, we are doing well, and is for the benefit of our patients," Dr. Castro concluded.
Learn more about GE Healthcare's Imaging Digital Solutions, here.
RELATED CONTENT
The future of distributed imaging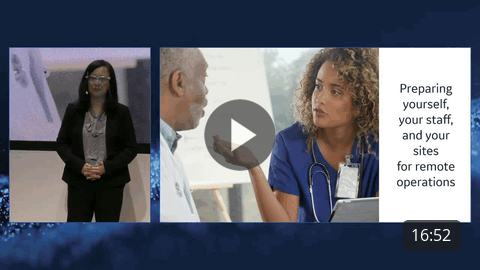 Achieving standardization and efficiency with Imaging Protocol Manager
Find out how the Salud Digna health system in Mexico is using Imaging Protocol Manager to drive standardization and efficiency in their vast network of facilities.
Understanding the protocoling ecosystem
Learn how standardizing protocol management and understanding multiple aspects of protocoling that work together for effective ways to help reduce variability and improve imaging consistency across locations or health systems.
DISCLAIMER
Not all products or features are available in all geographies. Check with your local GE Healthcare representative for availability in your country.
REFERENCES
[1] https://www.aamc.org/media/45976/download?attachment
[2] Data on file. 2021 GE Operational Efficiency Survey